4 star Oude Werf Hotel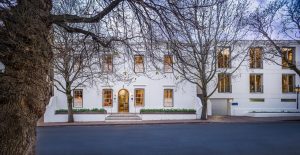 • Grading: 4 star
• Location: Stellenbosch, Winelands
• Golf info: 10 km, Stellenbosch Golf Course
• Nightlife: 8/10, Bars/clubs/pubs 10 minutes walk
In 1802 the Wium family opened a Herberg, or Inn, in tranquil Church Street. This is now the site of Oude Werf Hotel – the oldest and most historic hotel in southern Africa.
Soft hues and antique furniture have been tastefully aligned with the comforts of modern living to create a calm haven from which to base your explorations of Stellenbosch.
Bedrooms are individually styled with antiques collected over the years, modern facilities, and staff who pride themselves on their friendly, personal and professional service, make each visit an enjoyable and memorable one.
The "1802 Restaurant" is renowned for its traditional and international cuisine and boasts a wine list that will satisfy even the most sophisticated connoisseur.
Accommodation
Oude Werf Hotel offers four types of rooms spread over five buildings. These include our Classic, Luxury, Superior and the newest addition, the Governors.
The rooms either overlook the beautiful landscaped courtyard and garden, or Church Street. No two rooms are alike but there are enough similarities to classify the four types, available in both double and twin rooms.
• Satellite TV
• Fireplace on premises
• Garden
• Wireless Internet
• Laundry Service
• Off-Street Valet Parking
• Heated Swimming Pool
• On-site Skin Care Clinic
• In-house Tourguide
• Bicycles
• 24-Hour Reception
• Conference Facilities
Dining
This Restaurant is regarded as one of the culinary landmarks in Stellenbosch. For decades the restaurant was renowned as the best in town. To maintain the reputation and in keeping with the vastly improved levels in the hotel, the restaurant (now called 1802 @ Oude Werf Hotel) was completely renovated and reinterpreted during 2003-2006.
The Executive Chef, Cassius Williams has again positioned the restaurant as a leading light in Stellenbosch. The Hotel has always striven for presenting a relaxed and peaceful atmosphere in the restaurant for the benefit of our many regular guests. It aims to maintain an unhurried pace so that guests would never feel pressurised. In addition to the extensive traditional menu, a variety of lighter dishes is available, including Continental cuisine.
Breakfast at Oude Werf consists of a selection of cereals, fruits, juices, yoghurts, cold meats, and cheeses, muffins, toast & croissants, followed by a choice of warm dishes. Tea & filter coffee are of course available.
Additional Services
Guests can sit back and sip sundowners in the tranquility of a lovely verdant garden, while others bask in the sun on the wooden deck. Enjoy a dip in the heated swimming pool.
And for all those who feel a bit more energetic, there are signature golf courses in close proximity to the town, guided historical village walks, wine tours and a variety of other activities that could be arranged from the hotel.
A myriad shops, museums, art galleries and beautiful examples of Cape Dutch architecture are within easy walking distance of the hotel.
Showing all 5 results